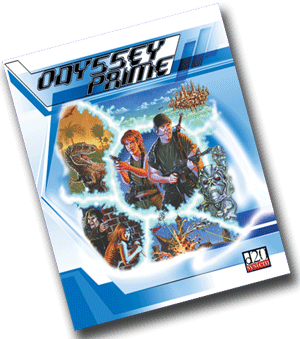 We've released the first introductory adventure for Odyssey Prime. Originally meant to be included in the core book, Southern Discomfort is a great way to introduce a new group to the Odyssey Prime game.
We've made some Odyssey Prime merch available through our Cafrepress Storefront.
Gary Dupuis' cover for the next Odyssey Prime project, Southern Discomfort, can be seen here.
Odyssey Prime can now be purchased here in print on demand format.
The long wait is finally over because today sees Odyssey Prime released in PDF format (POD coming soon.) To find out where to order the PDF, see the Armory. A preview can be found in the Secondary Gear section.
The art is all in and the final stages of production are underway.
The last of the art needed to put Odyssey Prime together has been ordered. It should be in by mid October, just leaving layout as the remaining step in production before release.
We are pleased to announce the launching of Odyssey Prime's site, here at Misfit Studios. This site will cover all things related to this game of dimension hopping, action, catastrophe and intrigue, and represents the first step of collaboration between the Misfits and industry veterans, Eden Studios.
Odyssey Prime is compatible with both the d20 Modern and Classic Unisystem rule sets.
Unisystem and the Unisystem logo are trademarks of CJ Carella and are used under license. Unisystem game mechanics are copyright 2006 CJ Carella. All rights reserved.